WHAT OUR RECENT CLIENTS SAY ABOUT US
Sachin and his team at RSB Environmental are very helpful with our company's environmental needs. Always courteous and informative in regards to our questions.
RSB Environmental is a great company, they are easy to work with and handle all our Environmental needs in a friendly professional way. I would recommend RSB Environmental for all your company's environmental needs.
CONSTRUCTION STORMWATER COMPLIANCE
In general, the NPDES (National Pollution Discharge Elimination System) stormwater program requires permit coverage for discharges from construction activities that disturb one or more acres, and discharges from smaller sites that are part of a larger common plan of development or sale. Depending on the location of the construction site, either the state or EPA will administer the permit. See the webpage for Authorization Status for EPA's Construction and Industrial Stormwater Programs to find out whether EPA or your state is the permitting authority for construction activities. You can also use the "Do I Need a Permit?" flow chart to help determine if and from whom you need to get NPDES permit coverage for your construction activities.
Navigating NPDES Construction Stormwater Compliance
In the context of construction, NPDES Construction Stormwater Compliance is paramount for maintaining the ecological integrity of surrounding water bodies. It is mandatory for construction sites disturbing one acre or more of land, or smaller sites involved in a larger common plan of development or sale. This compliance requires an appropriate Stormwater Pollution Prevention Plan (SWPPP) in place, ensuring the minimization of polluted stormwater runoff from the construction site. Essential components include adequate erosion and sediment controls, as well as a host of Best Management Practices (BMPs). Obtaining permit coverage, routinely inspecting the construction site, maintaining and updating the SWPPP, and submitting a Notice of Termination upon project completion, constitute the compliance process. Moreover, site-specific factors play a significant role in shaping the SWPPP, demanding diligent oversight and adaptive strategies. The criticality of NPDES compliance cannot be overstated, considering its role in protecting water quality and overall environmental health.
Stormwater General Permit for Construction Activities Nationwide:
RSB Environmental can help you obtain your NPDES Construction General Permit for construction site, perform routine inspections, and create Stormwater Pollution Prevention Plans (SWPPPs). We will identify cost-effective BMPs, and engineer short and long-term stormwater management systems including drainage controls, piping, treatment facilities, erosion controls and more. 
DO YOU NEED A STORMWATER PERMIT COVERAGE FOR CONSTRUCTION ACTIVITIES?
How do you get a NPDES Stormwater Permit Coverage for your construction Site?
1- Develop a stormwater pollution prevention plan (SWPPP)
The SWPPP is a plan for how you will control stormwater runoff from your construction site. It is broader and more complicated than a typical erosion and sediment control plan. The SWPPP must be completed before you file a NOI to obtain stormwater permit coverage. You don't have to submit the SWPPP with your NOI to obtain permit coverage, but the plan must be available on-site for review during inspection. Because every site is unique, every SWPPP is unique. The SWPPP needs to be updated as your work progresses.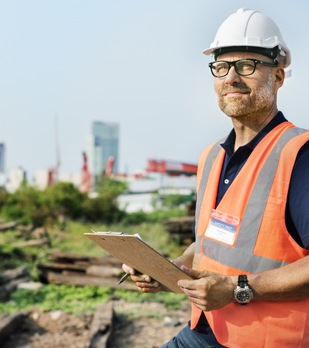 2- File a Notice of Intent (NOI)
The Notice of Intent (NOI) lets the state or EPA know that you are filing for a stormwater permit coverage for construction site. It is also your certification that you have read, understood, and implemented the requirements of the construction stormwater permit.  Your completed NOI should be posted at the construction site in a place accessible to the public.
3-  Implement all BMPs outlined in your SWPPP
All BMPs must be inspected and maintained regularly. Inspections are required either (1) at least once every 7 days and within 24 hours of the end of a rain event of 1/2-inch or more. 
4- File a Notice of Termination
The Notice of termination (NOT) needs to be submitted when construction activity is finished.
RSB Environmental can help with: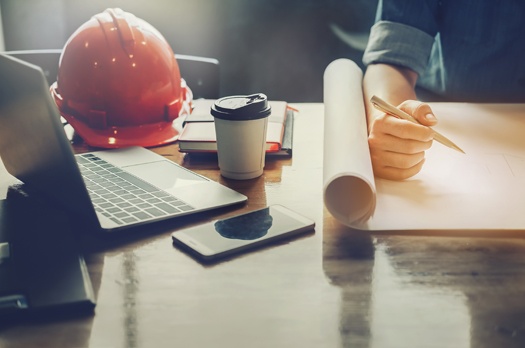 RSB has conducts Construction Stormwater Compliance projects nationwide. Please feel free to call us at 1-833-910-2535 or email at info@rsbenv.com to get a site specific price for your construction sites. We have strong relationships with the regulating communities that will keep our clients in compliance and free of any violation!
Additional Stormwater Information
Frequently Asked Questions
Our Registrations and Certifications