WHAT OUR RECENT CLIENTS SAY ABOUT US
Nirav and his team at RSB Environmental are very helpful with our company's environmental needs. Always courteous and informative in regards to our questions.
RSB Environmental is a great company, they are easy to work with and handle all our Environmental needs in a friendly professional way. I would recommend RSB Environmental for all your company's environmental needs.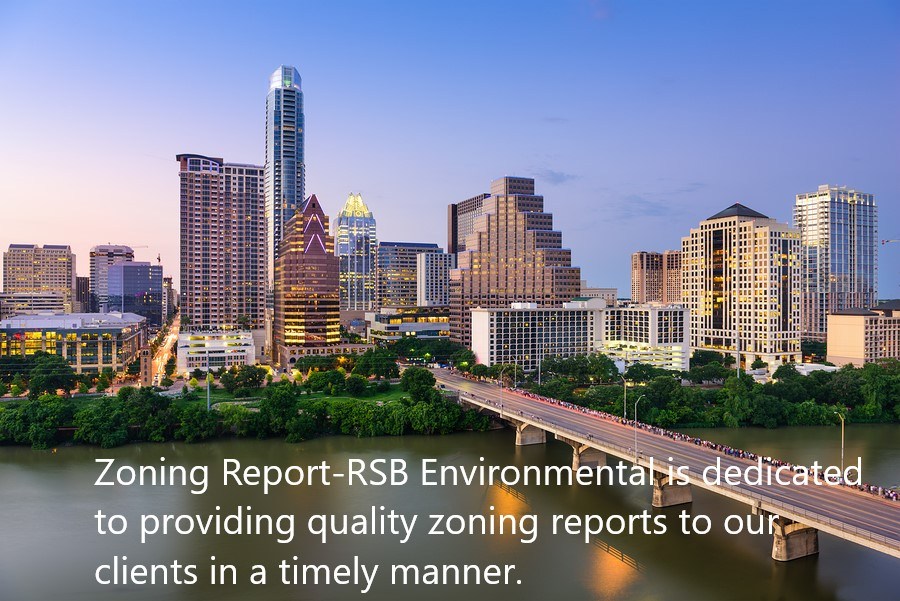 RSB Environmental has successfully completed 1000+ 
Zoning Reports in Texas
 and nationwide for our clients such as lender, 
commercial real estate agents
, buyers and sellers. RSB staff has combined 30 plus years of industry experience. 
Zoning Report, whether in Houston
, Texas or in other cities across the nation. It is an important element of the
due diligence
as it can determine if there is a potential environmental condition at the property. We serve Houston, Dallas, San Antonio, Austin, Texas, and beyond! Contact us now for more info on 
Zoning Report
 and beyond Our 
Zoning Report whether done in Houston, other Texas
 cities or anywhere nationally are completed by experienced staff and all are directed by environmental professionals with a minimum of 10-years experience. Our projects are 
cost-effective
 because we are a mid-size employee-owned company and we do not have the large overhead and expenses of a large company. We have the available staff and experience to complete multi-site portfolios nationwide with very short due dates (7-10 business days). We take pride in the fact that we can provide quality
Zoning Report
for less cost than our competition. The purpose of Zoning Report is to determine the conforming status of property with respect to local zoning laws. We can complete this reports in 7 business days for competitive price. Nonconforming uses, structures and outstanding code violations may result in disruption of income cash flow and property devaluation should the municipality take enforcement action against a property. As such, the need to conduct proper municipal due diligence in connection with a real estate transaction is essential and considered an integral part of the loan & equity underwriting process. The report includes illuminating property use, improvements and their compliance with respect to zoning ordinances, as well as the rebuildabilty of the property. The report will include a zoning conformance letter from the municipality, a report of any zoning, building or fire code violations, and a Certificate of Occupancy.
Zoning due diligence has become a necessary process in every real estate investment transaction. Lenders, insurers, and buyers need to minimize their risk and ensure their investment is smart, safe and profitable.
Lenders generally require a property to be in compliance with zoning ordinances before they will issue a loan. In the event that a property becomes legal nonconforming, commonly referred to as "grandfathered," lenders require a certain damage and reconstruction threshold percentage to again minimize the risk to their investment.
With zoning codes ever-changing, a Zoning Compliance Report provides confidence to the lender and investor that the use of the property will complies with local laws.
Why choose RSB Environmental for your due diligence needs?
RSB has conducted Due Diligence projects nationwide. Please feel free to call us at
1-800-304-6517
or email at
info@rsbenv.com
to get a site specific price for your property.
Our Registrations and Certifications